Shipping & Handling
For options and information regarding shipping, please see the Shipping & Handling section below.
resources
DVD Video Series
The Peacemaking Church Women's Study:
Living the Gospel in Relationships
Many women think they are alone in their struggles to live the Christian life. They have a constant sense of "not being good enough." There is no peace in their lives. And they are surrounded by broken relationships.

In this video series, The Peacemaking Church Women's Study—Living the Gospel in Relationships, Tara Barthel brings the hope of the Gospel to these issues of the heart.

If you are looking for a women's study that digs deep into Scripture yet doesn't give you so many rules and to-doís that you leave feeling weighed down and condemned, consider a study using The Peacemaking Church Women's Study.

Be encouraged—the Christian life is not a bunch of rules (and neither is this study)!

The Christian life is life with Christ. We are saved by God and we are being sanctified by God. And it really is possible that your life—your life—can be grace-filled, purposeful, and hopeful regardless of your circumstances. Because God is good, and He is for His children.

Come and enjoy The Peacemaking Church Women's Study. Youíll be encouraged. Youíll be challenged. And you will be reminded of how great the Fatherís love is for you.

The complete set for the Women's Study video series includes:
- Four DVDs containing the eight 40-minute video sessions
- Ten copies of the 90-page Study Guide / Journal (with questions for personal reflection, group discussions, and further in-depth study)
- Ten copies of the Peacemaking Principles Pamphlet
- Promotional Poster
- Quick Start Guide

(NOTE: On this website, you may watch or download bonus video clips of a Q&A Session and a Behind the Scenes / Bloopers reel from when the series was recorded.)

ENDORSEMENTS:

"Here is a one-stop guide for relationships. It is filled with Scripture. It will point you to Jesus at every opportunity. It is very practical. And Tara's style makes it uniquely for women. As a man, I might not seem authorized to recommend something by a woman and for women, but I appeal to my years of being surrounded by women -- a wife, then two daughters, and now a granddaughter. Tara speaks clearly to them, and I'm sure she doesn't mind that I learned some things, and felt some conviction, as I sneaked around watching the videos." ---Ed Welch, faculty and counselor at CCEF

"It's with overwhelming joy that I can highly recommend The Peacemaking Church Women's Study: Living the Gospel in Relationships by Tara Barthel. I am recommending these teaching sessions not only because they beautifully avoid the moralistic strategies so common in our me-centered churches but because she connects our struggle for peace to the only source of peace, the one who is called the Prince of Peace. The gospel of Jesus Christ is not only for new believers. Itís for every one of us who longs to love our neighbor and yet falls so short everyday. Only when my love for others is motivated and impelled by responsive love for Christ can I say that I'm loving as he loves. And only the gospel makes me do that. Thanks, Tara, for reminding me again. We love because he first loved us." ---Elyse Fitzpatrick, author of Comforts from the Cross: Celebrating the Gospel One Day at a Time

"I love women's material that doesn't shy away from sound theological categories. I'm not a woman (surprise!), but I can identify with women like my wife who wearied to no end with the significant number of "women's books" and studies that aim to be "devotional" with no theological heart. The amount of sentimental, pietistic, touchy-feely stories masquerading as Bible teaching is just plain staggering. So, I'm thankful for material I can recommend to women, material that does not shy away from good biblical truth." ---Thabiti Anyabwile, pastor and author

"This health-giving series is for women, but this man found it very helpful. With practical insight grounded in the Scriptures, it gets to the core of some of the key issues that we need to address along the path to maturity in Christ." ---Ajith Fernando, National Director, Youth for Christ

"Tara Barthel speaks lovingly and candidly to women about what it means to live out the gospel day by day in their relationships. Looking at Scripture, she points out how many women look to the law without fully grasping what Christ has done for them in the cross, and is doing in them by the Spirit. Tara shows how the Christian walk is one of growing repentance, confession, and faith as we learn to identify and close the gap between what we believe and how we live. Keeping the cross front and center in our walk keeps us from pride and legalism or from presuming on Godís grace. Tara demonstrates how the gospel speaks into our everyday lives, enabling us to live victoriously because of who we are in Christ. I recommend this series enthusiastically." ---Colin Smith, Senior Pastor of The Orchard Evangelical Free Church, Arlington Heights, IL

"In The Peacemaking Church Women's Study: Living the Gospel in Relationships, Tara Barthel brings profoundly biblical and grace-centered insights into the source of our interpersonal conflicts and God's solution in the cross of Christ, and she brings the message home to hearts through her own transparent honesty, humility, humor, and realism. As she emphasizes frankly (and illustrates abundantly from her own and others' experience), biblical peacemaking and peace-keeping are hard ("if it weren't, more people would do it"); but the assurance of what God has done for us in Christ gives us both motivation and hope as we seek to glorify God by reflecting to others the union of truth and mercy that is found in Jesus, who is our peace. I enthusiastically recommend this series to my sisters in Christ." ---Dennis E. Johnson, Ph.D., Professor of Practical Theology (Westminster Seminary California), co-author of Counsel from the Cross: Connecting Broken People to the Love of Christ
| | |
| --- | --- |
| Complete Set for the Women's Study Video Series (not including shipping): $149.00 | |
Extra copies of the Study Guide / Journal for the Peacemaking Church Women's Study
Each complete set for the Women's Study video series comes with ten copies the 90-page Study Guide / Journal. But if you would like extra copies for additional members in your group, you can order them here as well. Quantity discounts are available! Just drop me a note at info@tarabarthel.com.
| | |
| --- | --- |
| Study Guide / Journal (not including shipping): $9.95/ea | |
| | |
| --- | --- |
| 5-Pack of Study Guide / Journal (not including shipping): $45.00 | |
Only DVDs and One Study Guide / Journal for Peacemaking Church Women's Study (no other materials included)
Unlike the complete set for the Women's Study video series, this item includes only one copy of the 90-page Study Guide / Journal and the DVDs. No other promotional and supporting materials are included.
| | |
| --- | --- |
| DVDs and One Study Guide / Journal (not including shipping): $59.00/ea | |
Tara and Judy's Book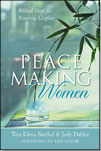 Peacemaking Women: Biblical Hope for Resolving Conflict
"Make every effort to keep the unity of the Spirit through the bond of peace." Ephesians 4:3

Friends let you down. A romance turns sour. Children rebel. A church is divided. You feel like you don't measure up. Is there really hope for living at peace?

Yes! Peacemaking Women offers a meaningful, lasting message to lead you out of conflict and into a state of peace where you can live as a representative of Christ to other women as well as to unbelievers. With personal stories and advice that is firmly rooted in Scripture, the authors guide you to peace with God, peaceful relationships with others, and genuine peace within.

Organized into twelve chapters covering conflicts with God, others, and within, Peacemaking Women provides discussion questions and recommended resources at the end of each chapter.

Click here to read endorsements from Chuck Colson, Bryan Chapell, Dan Allender, and Elyse Fitzpatrick, and to view the Table of Contents and video clips of Tara discussing the content.
Click here to read how Peacemaking Women "fits" with the DVD series Living the Gospel in Relationships?

Tara and Judy's Book, Peacemaking Women (not including Shipping): $12.00

If you would like Tara to sign your book, please indicate on the PayPal order form to whom she should sign it.
Tara and Dave's Book

Redeeming Church Conflicts: Turning Crisis into Compassion and Care
by Tara Barthel and David Edling

Every church will experience conflicts. If properly approached, church conflicts can be used for spiritual growth for both individuals and entire churches. Redeeming church conflicts--making something glorious out of something painful--provides evidence to a watching world that the gospel is real and powerful.

In this hope-filled and practical book, two church conflict resolution experts take you through the Acts 15 model of approaching conflict in order to provide a clear, godly way forward into redemptive reconciliation. Visit redeemingchurchconflicts.com for more information, video introduction, and a blog discussion of this book and related topics.

Tara and Dave's Book, Redeeming Church Conflict (not including Shipping): $12.00

If you would like Tara to sign your book, please indicate on the PayPal order form to whom she should sign it.
FREE Downloadable MP3 Files on Various Topics
Biblical Hope (and Help) for Women with Powerful Personalities
Gifted, educated, and passionate women often are misunderstood and can easily find themselves isolated, lonely, or embroiled in a variety of relational conflicts. The very strengths that help us to motivate and lead others can also be our downfall relationally. If you, or someone you know, struggles to relate well with people and develop deep friendships, this workshop is for you. Grounded in biblical truth and fueled by the gospel, we will consider how best to serve these precious women with grace, truth, and redemptive time.

Handouts

Download the MP3 file for this workshop now for FREE!
Peacemaking for Preschoolers (and their Mothers!)
There is nothing like parenthood to provide endless opportunities for biblical conflict resolution. Not only do we have the dynamic of "Big Sinners helping Little Sinners" as we train our own children to love God and love neighbor; we are also called to promote peace in the adult relationships that often change significantly with the presence of small children. In this workshop, we will consider biblical and practical ways to remember and live out the gospel during the frenetic years of parenting young children. And we will spend significant time discussing practical helps for introducing the Young Peacemaker concepts to toddlers and preschoolers.

Handouts

Download the MP3 file for this workshop now for FREE!
Mediating the Miserable Christian Marriage: An Advanced Case Study
Do you know any marriages in which the husband and wife love God, their children, their church -- and hate each other? Having co-mediated a number of these "miserable Christian marriages" over the years, my pastor (Jason Barrie) and I do. We have seen firsthand the poisonous cauldron of bitterness and rage that can only come after couples spend decades either fleeing or returning in kind countless offenses, slights, and graceless attacks. These marriages are stuck in a cycle of despair and they need help. In this workshop, we will share with you the idols of the heart and other issues we observe repeatedly in marriage conciliation cases. We will also provide the Scriptures and strategies we most often use to encourage, confront, rebuke, and comfort.

Handouts

Download the MP3 file for this workshop now for FREE!
But How Can I Submit When I Know He's Wrong? Biblical Conflict Resolution Involving Authority Relationships
We know from Scripture that we are called to "seek peace and pursue it" (1 Peter 3:11). We also know that God works out His will through authority (Romans 13:1-5). So what do we do when our leaders make bad decisions? Though often godly and wise, sometimes our leaders--both men and women--make foolish, immature, and unloving decisions. At other times, we may simply disagree with them. In this workshop, we consider what it means to pursue unity in relationships that have authority dimensions.

Handouts

Download the MP3 file for this workshop now for FREE!
Healing the Conflicts Between Mothers & Daughters
In this workshop from the 2001 Peacemaker Ministries Annual Conference, I teach not only from my own mother-daughter experience (my mother was an alcoholic with mental illnesses, I have had two step-mothers, and I lived with a "Christian mom" in high school after my mother attempted suicide), but also from the experiences of over 100 women I interviewed for this training.

(PLEASE NOTE: The audio quality is not good at the beginning of this recording, but it improves.)

Handouts

Download the MP3 file for this workshop now for FREE!
Oceans of Emotions: Effectively Ministering Peace to Women
I taught this workshop at the 2002 Peacemaker Ministries Annual Conference with the hope of ministering to women who experience powerful emotions (like me!), and also to the people who relate with us. We consider how our emotions exist for God's glory, how the Fall affects our emotions, and how our emotions show our what we believe about God, ourselves, others, and our circumstances. I also provide some practical steps for wisely and biblically managing our emotions and ministering to people with strong emotions.

(PLEASE NOTE: This recording is missing the first and last couple minutes of the teaching. While you can still understand where I was headed, I am sorry for this glitch.)

Handouts

Download the MP3 file for this workshop now for FREE!
TRACK 1: The Grace of God that Brings Shalom
This is my personal testimony of God's grace ministering to my heart and bringing abiding Shalom: peace with God, others, and within. I share of growing up with a crushing sense of being "not good enough" no matter how hard I tried (and how I tried to "escape" through performance and food). I also explain how the Lord brought me to peace with my past (I grew up in an alcoholic, divorced family with a mentally ill mother) and is ministering peace to my heart to this day. I hope it is an encouragement to you!

Download the MP3 file for this talk now for FREE!
TRACK 2: A Woman of Peace Amidst Holiday Strife
I gave this keynote at our church's Christmas Brunch back in 2000. Through Scripture and humor, I provide practical ideas for walking in peace amidst the frenzied holiday season. (I've been told this is an especially good recording to listen to just prior to Thanksgiving.)

Download the MP3 file for this talk now for FREE!
Peacemaker Clubs: Vacation Bible School Curriculum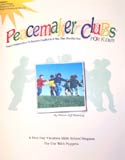 Peacemaker Clubs: Vacation Bible School Curriculum
All families, whether they are Christian or non-Christian, know the pain of conflict. This five-day Vacation Bible School Curriculum uses gospel-centered lessons, puppet skits, songs, and crafts, to share how Jesus, the Prince of Peace, has come to bring us peace with God and to make us into peacemakers. Includes a detailed Leader's manual, promotional DVD, and an audio CD containing puppet skits. The themes for the clubs include:
Monday: Conflict Starts in the Heart
Tuesday: Conflict is a Slippery Slope
Wednesday: The Five A's of Confession
Thursday: Respectful Communication
Friday: The Freedom of Forgiveness
Peacemaker Clubs are one of the most exciting and effective ways ever developed to teach children how to respond to conflict biblically. Fun, engaging, and life-changing, these clubs are a superb discipleship and evangelistic tool, as kids invite their friends and take practical biblical principles home to their parents and siblings. A great way to demonstrate the power and appeal of the gospel!
~Ken and Corlette Sande, authors of The Peacemaker and The Young Peacemaker
| | |
| --- | --- |
| Price (not including Shipping): $59.00 | |
Shipping & Handling
Automatic Charges for Shipping via US Media Mail
Shipping and handling charges for US Media Mail will automatically be added to your order as follows:
$4.00/DVD set, 5-CD set, or book/VBS
$2/individual audio CD
$2 for the first women's study guide and $.50/ea. for additional guides

If You Need Faster Shipping
I usually ship within 24-hours of receiving an order, but please note that Media Mail is very slow (at least 7 to 10 business days on average).

If you need your order quickly, I am happy to figure out the exact shipping for the speed you require (Priority Mail / 2-day / overnight). Simply email me and I'll do everything I can to get you your order for the least expensive cost.

To Save Money on Shipping for Large Orders
If you have a large order, the "automatic" shipping costs might quickly become inappropriately high. (Due to the limitations of our little website, we donít have a lot of control over how we can charge shipping.) I never want to make a profit on shipping! So if you have a large order, please email me before placing your order and I will do everything I can to get you a more reasonable shipping cost.

International Orders
Please know that I would love to be able to ship to Canada and other countries for these same domestic costs, but it's simply beyond our family's means at this time to pay the difference out of our own pocket. However, due to the limitations of our little website/ordering process, if you place an order to another country it WILL temporarily go through and look like it has these shipping costs. But then I'll have to email you and cancel your order OR ask you to pay the actual shipping.

Iím sorry for this inconvenience! Itís the best our family can do, but I am sorry for the hassle. The bottom line is that we need you to please email me first if you would like to place an INTERNATIONAL ORDER so that I can get you the exact shipping cost. Thank you very much!

Insurance for Your Order
Finally, since the post office isn't perfect (they once "lost" an order of 35 books I sent -- yikes!), please understand that you will need to bear the risk of loss or damage during shipping. All I will retain to prove I shipped your order is a receipt showing your zip code and the date it was mailed. If you order is lost or damaged, this will not give you any protection or way to be reimbursed from the Post Office. However, you may purchase shipping insurance for an additional $2.00/item if you desire. To order insurance, click the button below.

NOTE: If you prefer, you may send your order in the mail with a check or money order, and I'll send it to you when I receive your payment.